(Bio in English below)
Geboren in Augsburg, studierte ich dort nach dem Abitur vorerst Kunstdidaktik und zog dann nach Paris, um die Trompe l' oeil – und Wandmalerei zu erlernen – mit Diplom-Abschluss am Institut Supérieur de Peinture Décorative.
Zu Beginn meiner künstlerischen Laufbahn malte ich vorwiegend gegenständlich und figürlich, wenn auch oft symbolisiert – meist mit Dispersionsfarben auf Papier/Karton.
Bilder aus dieser Zeit sind unter Figurativ, Fantasy und Nature/Still lifes zu sehen.
In Paris begann ich zunehmend mit Acryl und Öl zu malen. Beeinflusst durch die Ausbildung in die Illusionsmalerei entwickelten sich meine Bilder naturalistischer (-> Nature/Still lifes). Gleichzeitig blieb ich meiner "Fantasy" -Malerei treu.
Diese drückt in meinen Bildern seelische Zustände, das Unbewusste, sowie eine mystisch-spirituelle Dimension aus. 
Auch interessierte ich mich zunehmend für Gesichter und deren Ausdrucksstärke.
In Folge des Studiums in Paris entstanden viele Wandgemälde – sowohl Illusionsmalerei als auch völlig gegenstandslose Farbflächen.
Die Malerei auf großen Wänden führte mich schließlich mehr und mehr zur reinen, formlosen Farbgebung und der Wirkung von Farbe an sich, welche für mich durch die Arbeit auf sehr großen Flächen besonders intensiv spürbar wurde.
Diese Erfahrung bewegte mich zu meinem letzten Studium an der Freien Akademie München, an welcher ich tief in die seelischen Aspekte und Hintergründe im Zusammenhang mit künstlerischem Schaffen eintauchte. Abstrakte Farb – und Formgebung wurden für mich nun von maßgeblichem Interesse (-> Colours/Movements).
2017 begann ich mich auch künstlerisch intensiv mit Umwelt und Natur auseinanderzusetzen. Ich initiierte und kuratierte deshalb 2018 und 2019 die künstlerische Umweltausstellung ARTLAND unter Mitwirkung anderer Künstler aus verschiedenen Bereichen: https://www.facebook.com/artland.augsburg
Zur Zeit arbeite ich vorwiegend mit Pigmenten und Acryl auf Leinwand, auch in Kombination mit Ölfarben, Tusche und unterschiedlichen Materialien.
Das Experimentieren mit und Staunen über die vielfältigen Möglichkeiten der Gestaltung sowie die Frage nach deren überpersönlichen Sinn sind für mich zu einem wichtigen Antrieb meiner künstlerischen Tätigkeit geworden. 
Aktuell lebe und arbeite ich in Augsburg, Germany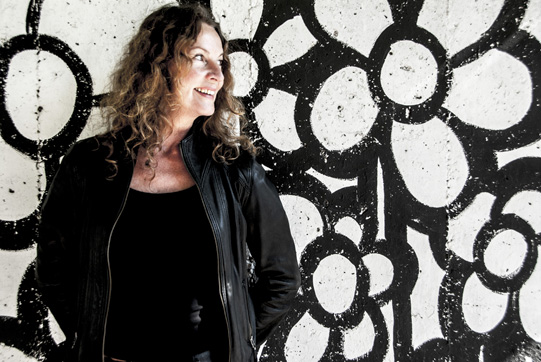 Born in Augsburg, I first studied art didactics there after graduating from high school and then moved to Paris to learn trompe l' oeil and mural painting – graduating from the Institut Supérieur de Peinture Décorative.
At the beginning of my artistic career I painted mainly representational and figurative, although often symbolised – mostly with emulsion paints on paper/cardboard.
Pictures from this period can be seen under Figurative, Fantasy and Nature/Still lifes.
In Paris I increasingly began to paint with acrylic and oil. Influenced by the training in illusion painting, my pictures developed more naturalistically (-> Nature/Still lifes). At the same time I remained true to my "fantasy" painting.
This expresses in my paintings mental states, the unconscious as well as a mystical-spiritual dimension.
I also became increasingly interested in faces and their expressiveness.
As a result of my studies in Paris, I created many wall paintings – both illusion paintings and completely non-representational colour surfaces.
Painting on large walls eventually led me more and more to pure, formless colouring and the effect of colour itself, which I felt particularly strongly through working on large surfaces.
This experience moved me to my last studies at the Free Academy in Munich, where I dived deeply into the psychological aspects and backgrounds in connection with artistic creation. Abstract form and colour became of decisive interest to me (-> Colours/Movements).
In 2017 I also began to deal intensively with the environment and nature. I therefore initiated and curated the artistic environmental exhibition ARTLAND in 2018 and 2019 with the participation of other artists from various fields: https://www.facebook.com/artland.augsburg
At present, I work mainly with pigments and acrylics on canvas, also in combination with oil paints, ink and various materials. The experimentation and amazement of the diverse possibilities of design as well as the question of their supra-personal meaning have become an important drive for my artistic activity.
I currently live and work in Augsburg, Germany